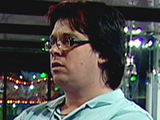 A dispute about onions was the catalyst for a full-scale argument between Govan and Dave this afternoon.
While the housemates were eating lunch, Dave and Ben ate some onions which were meant to be used later for dinner. Nathan then explained this to them and they apologised. However, later on, the subject of the onions came up during a conversation with Govan and things became heated.
The subject quickly moved from the onions to Govan's dispute with Sunshine on Saturday evening. Govan objected to the way Dave had got involved and said: "You had nothing to do with the situation." Dave countered, saying: "I didn't do anything, I tried to comfort her off the back of what happened."
As the argument continued, Dave told Govan that he had tried to get Sunshine kicked out of the house by nominating her as the mole. "You tried to encourage other people to vote for Sunshine," he insisted. Govan disagreed but Dave persisted, saying: "People that are watching will see what is happening."
The debate continued for some time before the pair went out to the garden to try and resolve their differences. Sunshine, whom much of the argument was centred on, had been lying down in the bedroom. When she returned to the group, she asked: "What's going on?" to which Ben jokingly replied: "Nothing, just a lazy Monday afternoon."