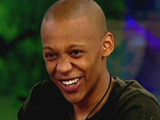 Govan cleared the air with David and Sunshine this evening after
a series of disagreements
concerning Govan's selection of Sunshine as the Big Brother mole on Saturday.
This afternoon, after David had annoyed housemates by eating onions put aside for a later meal, he accused Govan of having a gameplan in his choice of Sunshine. This led to a heated argument where the two eventually had to retreat to the garden to resolve their differences.
After David conceded that there were some things he had done wrong, Govan agreed and said: "I don't think your intent was wrong.
"But I think you have to be really careful about what you're saying about other people. I know if I was in Sunshine's place you would make me feel worse."
After the two ended their dispute, Govan then spent over an hour and a half with Sunshine as the two cleared the air. She agreed that Govan had not been trying to influence other housemates' decisions.
"I don't think people need influencing. I don't think there was anybody saying, 'Vote Sunshine'. In the end everyone was looking at the board. It only took one [to write my name down] then everyone else did it.
"I equated in my head that if you guys voted for me it's because you thought I was the mole and I would be evicted."
The pair further discussed other misunderstandings in the house, and gave their own opinions of events.
Watching this take place, Ben and Nathan agreed that other housemates, including themselves, were also to blame for the disagreements.
"We've all been stirring the pot," said Ben.