Reality TV News
Housemates react to nominations result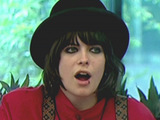 Big Brother has revealed to the housemates that Dave, Shabby and Sunshine received the most
nominations
yesterday and will compete in a special
task
where the winner will be saved from facing the public vote.
The nominated trio appeared to accept the news well, but when Big Brother called them to the Diary Room, Shabby revealed to Dave that she believed the nomination results were fake and that if they were true, one of her friends must have nominated her.
"Maybe you're up for nomination because of the other day," Dave agreed. "Maybe it was part of your punishment... me and Sunshine would have had a shed load of votes because of the
thing
with Govan."
The trio later left the Diary Room dressed in mouse constumes for their task, an obstacle course called 'Hickory Dickory Dock'.
Shabby later repeated to Ife, Caoihme and Rachael that one of them had nominated her for eviction, despite Mario's suggestion that the nominations had been spread thinly among all housemates.
"Honestly Shabby, you know who you can trust," Rachael hit back. "So don't say 'one of you lots voted for me' because that hurts my feelings."
Meanwhile, Sunshine told Govan that she "expected" to be up and would rather have all three nominated housemates face the public vote as she thought that Shabby would win the task, leaving her to go head to head with Dave, her closest friend in the house. Govan reassured her that he believed the public would save the girls and evict Dave after yesterday's argument.