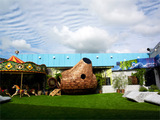 The nominated housemates competed in Big Brother's latest task 'Hickory Dickory Dock' this afternoon.
Dave, Shabby and Sunshine were asked by Big Brother to put on mouse costumes whilst the equipment was being set up in the garden.
With the garden re-opened, the housemates ventured outside to be greeted by an assault course comprising of a floor of revolving disks, with large pieces of foam cheese at one end. Their task was to carry the cheese across to the other side in the quickest possible time. The housemate with the fastest time would win the task.
Dave stepped up first and managed to carry each bit of cheese across. He was then followed by Sunshine who struggled on the revolving disks and could not complete the course.
Shabby was next to compete and although she initially struggled, announcing "I'm not doing it" after being thrown off repeatedly, she gave one last push and managed to transport all the cheese over.
Their fellow housemates were cheering them on throughout the task. Each participant received injuries with Dave displaying a cut on his arm afterwards. "Are you bleeding?!" asked Sunshine.
Big Brother then announced their final times. Sunshine failed to complete the task, Shabby took 3 minutes and 45 seconds and Dave won the task in 1 minute 31 seconds.
Big Brother then told Dave he had to choose a housemate to face the public vote instead of him and after much deliberating
he chose
Rachael.