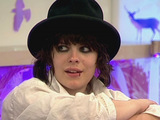 Shabby and Ben had a series of arguments this afternoon after an attempt to clear the air between them backfired.
The pair met in the garden at around 2pm to discuss Shabby's suspicions that Ben had made a special effort to befriend her yesterday in order to avoid being nominated by her.
"I've been trying for several days to try and talk to you because I'm fascinated by you," he said. "You happened to be there [waiting to nominate] and we actually had the chance for a proper chat."
Shabby remained unconvinced, pointing out to Ben that their conversation came at a convenient time. She also reminded him that he had told Ife, a close friend of hers, that he
regretted
his nominations. Although Ben refused to reveal whether he had nominated Shabby, he assured her that he hadn't been referring to her.
Shabby later went to apologise to Ben, but stormed away after he admitted that he sometimes questioned whether her behaviour in the house is genuine because she is an actress on the outside world.
Caoimhe tried to tell Ben that Shabby is not playing games, but he hit back by saying that he had tried to apologise and their argument was damaging his relationship with Caoimhe.
"By flaring up like that, it leaves me feeling really bad, leaves bad feeling in the air…it's just selfish to do this," he said.
Despite Caoimhe suggesting to Ben that he apologise and then begging Shabby to "let it go", the bad feeling continued, with Ben telling Sunshine, Mario and Dave that he hopes Shabby is evicted on Friday and Shabby claiming that Ben was a "game player" and trying to "manipulate" her friends.