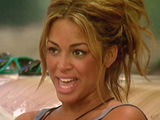 Rachael, Ife and Caoimhe enjoyed a girly chat in the bedroom this evening, as the topic of the opposite sex came up.
Rachael expressed a preference for tall men after revealing that she used to date a basketball player.
"I couldn't date a short man," insisted the hairdresser, explaining that it would be tricky as she always wears high heels.
Ife then asked what would happen if the man in question didn't mind her wearing her stilettos. "I don't know babe, that's a tough one," she replied.
The trio went on to talk about Ben, agreeing that he's not the sort of guy they'd usually come across in the outside world.
"He's such a funny, orangey colour," observed Rachael, noting that he always smells of fake tan.