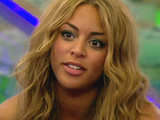 Rachael has told John James that she finds him attractive.
The pair, who have not been getting along during their time in the house, spoke last night after John James confronted the Beyoncé lookalike over their differences.
John James told the hairdresser that he has an issue with her facial expressions, explaining that he thinks she looks down on other housemates and is arrogant.
"I'm really sorry!" she said, explaining that she had meant the faces she pulls at him as a joke.
"I'm not looking down on you at all," she continued. "Please don't think that I don't like you."
"I wouldn't care if you did or you didn't," John James responded.
"But I do!" she protested. "I probably do that face to hide what I'm thinking a lot of the time."
Later on, she added: "John... you don't understand. When you come into a room I'll look at you because I think you're a really good looking guy, I think you're hot."
Explaining that she would like to get to know him better, she said: "I'm so glad that you've spoken to me about it. I want to make it right, and I'd like us to get on. From now on I won't do the face, and I'll make an effort to get to know you".
"And I won't ignore you or walk away from you," concluded John James.