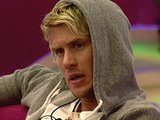 Following a
discussion
during which John James accused her of being arrogant, Rachael has sought comfort in her fellow housemates.
Going outside for a cigarette with Nathan, Corin and Govan, the hairdresser admitted that she was "shocked" John James had taken offence at her facial expressions.
"He's trying to mould you into the perfect wife," joked Nathan, warning her not to change her personality for anyone.
Later on, Rachael discussed the issue with Shabby, Ife and Caoimhe. "But don't you fancy him?" asked Shabby.
"Well yes!" she exclaimed, adding that the situation is embarrassing because he's "such a good-looking guy".
"He picked a bad time to talk to me... I've cried three times today," she added.
"Why didn't you tell him your looks were supposed to be come-hither?" said Ife. "Maybe you're not as good at flirting as you first thought."