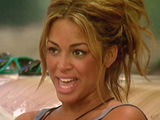 Rachael's mum has played down rumours about her daughter having a nose job to look more like Beyoncé.
Speaking to her local newspaper the
Derby Telegraph
, Michele White played down reports in the
weekend's tabloids
about Rachael's past.
Michele admitted that Rachael did meet her idol Beyoncé at a gig in 2007 in Nottingham, but said that the claims she spoke to her backstage for a long period of time were wide of the mark.
When asked about the accusations that Rachael had undergone cosmetic surgery, she said: "Rachael has never had a nose job."
Rachael is up for eviction this Friday alongside Shabby and Sunshine.
> Rachael fears sex tape may become public