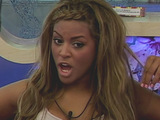 Rachael and John James have continued to have problems getting on with each other today after John James yesterday suggested that Rachael was arrogant.
Earlier, Rachael had spoken with Govan about the situation, describing it as strange that John James had taken such a dislike to her.
"When I fancy someone normally it's pretty alright," she explained. "It's never took this long to get what I want."
Later on in the garden while discussing her feelings on the eviction, John James asked Rachael why she thought the public would evict her.
"Because obviously John, some people think I'm arrogant and I look down my nose at people," she told him as he laughed at her.
She then told housemates that it often takes people a while to get to know and like her, prompting John James to remind her that she had already been in the house for seven days now.
"Yeah I know and you still don't like me," Rachael said, causing John to smile again.
Josie tried to put an end to the conversation by saying that she thought John James liked Rachael more than he was letting on, but he remained tight-lipped on the subject.