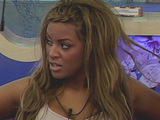 John James clashed with Rachael at dinner tonight over comments about appearing in
Nuts
magazine.
As the housemates were having dinner cooked by Nathan, several of the girls made jokes about featuring in the lads' magazine after they leave the house.
Following on from their
previous confrontations
, John James got involved in the conversation, saying that the girls' attitudes "annoy" him and that "you're not rock stars".
Rachael left the kitchen in tears, followed by Shabby, Caoimhe and Ife. Corin and John James spoke about the incident, as she thought his comments were directed at her. In the bathroom, an angry Caoimhe said "he has personal issues, tell that little shit head that he can stop talking like that". Rachael said that she felt it was a "personal attack" on her.
Shabby spoke to both John James and Rachael, suggesting that they "are a massive case of clashing personalities" and that the two "should stay away from each other". John James commented that "she worries about the wrong things in life".
Ben comforted John James, saying that "he's my buddy" and that "he is very idealistic and that's why I admire him". Ife and Govan spoke to John James later, with Ife commenting that it was "rude" to make the remarks at dinner, which John James agreed with. She also theorised that he had made an impression of Rachael at the start and has yet to change it.
Gradually, the housemates calmed down as Rachael and John James avoided each other for the rest of the evening.