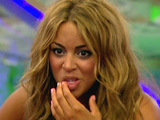 Rachael has said that she is upset she and John James are unable to get on.
The pair have clashed on a number of
occasions
over the past few days, with the Australian branding Rachael "arrogant".
Speaking to Govan and Josie in the bedroom this morning, Rachael said: "Obviously it hurts my feelings."
Govan and Josie asked how she had reacted to John James's criticism, to which the 23-year-old responded: "I've just been normal."
Rachael and Govan then took the conversation outside into the garden, with Rachael claiming: "I just hate people that judge people."
Earlier, John James and Rachael had ignored each other while getting dressed in the bedroom.