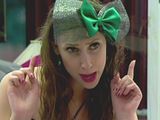 Sunshine has been questioning why she was put up for eviction.
During a conversation in the garden, John James guessed that Friday's eviction would be between Shabby and Rachael, with Sunshine surviving the public vote.
This prompted Sunshine to ask: "I wonder what I did [to be nominated]." John James replied: "You're a bit of a whiner."
"You talk about yourself a lot," added Ben, before Mario offered some reassurance. "I still love you Sunshine, everyone has their flaws," he said.
John James then told her that he did not want to get her hopes up as he would feel bad if she did get voted out.
Regarding her potential exit from the house, Sunshine asked: "Will you miss me?". After a moment's consideration, John replied: "I will."