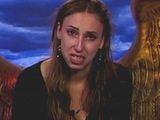 Sunshine broke down this evening after being provided with another meal of salad, tofu and falafel.
Earlier today, the housemates
failed
their task to increase this week's shopping budget, but were promised a TV dinner and alcohol for tonight. The majority of housemates were provided with pizza for the meal, but Sunshine found she was given salad, pitta, tofu, falafel and hummus to meet her vegan diet.
On seeing the food, Sunshine exclaimed: "I don't want salad again!" After going to speak to Big Brother in the Diary Room, Sunshine emerged and went to bed instead of joining the other housemates. As Corin asked if she was okay, Sunshine replied she was fine but needed some time alone.
Later, Sunshine cried as she spoke to Dave, Mario and Corin about it. She said: "I went to them and asked them if in future I can get a pizza without cheese and they said yes.
"It's just that I hate that tofu, it's horrible. I just didn't feel part of it because they give me food that needs cooking and they give you pizza. Everything's getting on top of me and I thought that I'd get a nice piece of food, and then I get a salad."
The group agreed that it wasn't fair, saying that salad's okay but it's not "a nice treat" like the other housemates had received. Mario and Corin tried to persuade Sunshine to have some pitta and hummus instead, but she insisted she wasn't hungry.
She apologised for getting upset, saying: "I'm fine, really, I'm being silly." Mario told Sunshine she had "been great" in the house, with Corin adding: "Yeah, considering you're up as well, you've been really good. Your mum and dad are going to be well proud."
Sunshine was nominated to face the public vote this week, alongside Shabby and Rachael.