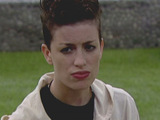 Ife and Caoimhe both agreed that Rachael is shallow during a conversation in the garden last night.
The girls tried to remain diplomatic as they speculated about the tension between her and John James and how she might be perceived on the outside.
"I really like Rachael and I like her for her," said Ife. "But I can see how people could see that she thinks that she loves herself."
Caoimhe agreed: "Yeah like getting changed and stuff twice you know."
The pair went on to snigger and say how they loved Rachael but continued to point out her faults. Ife said: "Like on the bin task I was a little bit, not a little bit annoyed, but I thought..."
"You just thought, 'Come on, get on with it!' you know," said Caoimhe.
Ife struggled with her words. "I'm trying to say it in the nicest possible way. I think that, she might be, I don't know, one of those girls who are a bit…"
"Shallow," laughed Caoimhe.
"In the nicest possible way," agreed Ife.