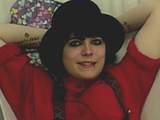 Shabby has confessed to being worried about tonight's eviction.
Along with Rachael and Sunshine, she faces the boot in tonight's first public vote.
While talking to fellow nominee Rachael, the 24-year-old said that Big Brother had asked her how she felt about potentially being the first person to leave the house.
"How do you think I feel, its social suicide," she said, before suggesting: "Maybe if I vomit I'll feel better."
Caoimhe then spoke to Shabby about who she would like there for her if she leaves. "There is one person I want there and it's definitely not my mother," replied Shabby.
A shocked Caoimhe told her that she shouldn't say things like that, before Shabby explained: "She'll just be terribly disappointed."