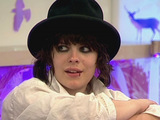 Shabby has been telling the housemates about her fear of leaving in the first eviction this evening.
After Big Brother's fake crowd noise began playing in the house, the London squatter repeatedly told it to "shut up" and began pacing back and forth.
Speaking later in the smoking area, Shabby said: "I don't really know how I ended up here because in a way I never intended to. Suffice to say I never really expected an eviction because I never expected to be here."
Rachael agreed, adding: "As much as you want to remain positive, the moment you're here it's a totally different ball game."
Shabby later promised the group that if she stays in the house they will see a different side to her next week but joked after this she will probably return to her normal behaviour.
As the housemates were called to the sofa, she added: "I'm feeling very Victorian right now, like I'm on my way to a hanging."