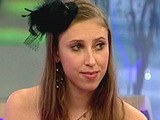 Big Brother punished Sunshine for discussing nominations last evening by ordering her straight to bed.
As the housemates were celebrating Shabby and Sunshines' eviction survival with the alcohol that Big Brother had given them, Sunshine was called into the Diary Room and confronted with her rule breaking.
Reporting back to other housemates, she said: "Sunshine has been told by Big Brother that she said something earlier which was interpreted as discussing nominations. She must now go straight to bed as punishment."
When housemates asked what she had said she returned to the Diary Room to ask if she was allowed to repeat her comments. However, Big Brother ordered her to go straight to bed and not discuss the matter further.
She was allowed company at her bedside, however, and housemates took it in turns to spend time with her in the evening.