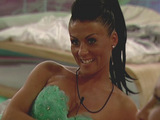 Big Brother has handed Corin a number of treats as her 'Day of Heaven' begins.
Last night,
Rachael chose Corin
to have the special day, and Bob Righter delivered a cryptic message to the housemates.
Her day of surprises started this morning, as Big Brother woke up housemates to the sound of a Dolly Parton song, one of Corin's favourites. The song prompted housemates to dance and sing, with Josie saying "throughout there's going to be things that you like". Shabby added: "I'm thrilled, I love that tune".
Shortly after Corin said she believed the song to be her only surprise, she was called into the Diary Room. She revealed that she was treated to a full English breakfast, music and Big Brother saying "nice things" to her. She was also offered a dinner of her choice, with Corin picking chicken tikka masala.
Throughout the morning, housemates debated why Corin was receiving the special day. Ben suggested that she "won a poll as everyone loves her". John James and Dave correctly guessed that Rachael chose Corin to have the surprises, as it happened directly after her eviction.
Along with a beaming Corin, the treats seem to have put the rest of the house in high spirits, with several housemates enjoying the song, and Nathan planning a game of 'solf' (golf with socks) later.