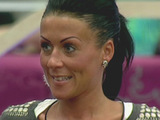 The housemates have received a task called 'You vs The Housemates', which pits them against a member of the public.
This afternoon, Big Brother called all housemates to the sitting area and asked one person to go to the Diary Room. Shabby ran to the door, and on returning, read the instructions to the housemates.
The message read: "One housemate will go head-to-head with a member of the public. It's called 'You vs The Housemates'. The housemates will now have two minutes to choose which housemate will compete. Big Brother recommends that the chosen housemate should be 'full of hot air'."
Caoimhe suggested that the housemate should be someone who didn't take part in the task yesterday. After a brief discussion, it was decided that Corin should compete in the challenge as it is her
special day
.
After announcing that Corin was the chosen housemate, Big Brother announced that today's challenge is called 'Candle in the Wind'. Corin must attempt to blow out a standard birthday candle from the furthest distance possible. Housemates were shown footage of a member of the public attempting the same challenge, and were told the result of the public attempt would be revealed after Corin had completed the task.
Corin was then provided with a cupcake topped with a birthday cake candle, and a measuring tape, and told she had one hour to practice. The rules state that the candle must be at mouth height, and Corin must start in the chosen position without creeping forward. During the real attempt, Corin will have three blows to extinguish the flame.
If she successfully beats the public competitor, the housemates will receive a special prize.