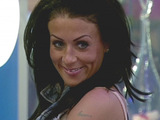 Corin has successfully passed the first 'You vs The Housemates' task by beating a member of the public at blowing out a candle from a distance.
Earlier, housemates
chose Corin
to take part in the task, having viewed a
Big Brother
viewer attempting to blow the candle out.
After an hour of practising, Corin was given special clothes for the task, including a white tennis style outfit with 'BB11' on the shirt. Housemates gathered on the sofas, as Corin failed on her first two attempts at 1m20cm. For her final attempt, Corin moved the cake holding the candle back to 1m15cm, and succeeded in blowing the candle out.
Big Brother then announced to the housemates that the challenger only managed 1 metre, meaning Corin had passed the task. Nathan suggested everyone having a go at the candle, before Big Brother asked all housemates to return to the bedroom.
It remains to be seen what the special prize will be.