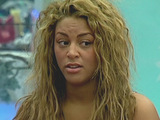 The housemates have spent the day talking about Rachael's eviction, and how the house has changed in her absence.
Govan has told a number of people that his low mood today has been made worse because he is wondering what has happened since she
left the house
last night.
"I felt like I've known her... It was horrible to see her go yesterday," he told Ife. "And I was worried for her as well, because I know she was scared about leaving."
Meanwhile, Josie asked Ben if he missed Rachael. He said: "Yeah. But I fancied her, she didn't fancy me. You've got to be realistic." Talking about the situation with John James and the Beyoncé lookalike, Ben said: "I think he was over the top with her, but I don't think he was horrible.
"I think she was strategic, she would see if people were useful. I don't know, you never really know people's motives, do you? But he's got a good heart, if he takes a dislike to people then there must be a reason."
Later, Nathan told Dave that he definitely noticed the difference in the house since Rachael left, like someone is missing. He added that he thought the public reception when she entered the house was unfair, saying: "She had a bit of an attitude, but what's wrong with that?"
Corin suggested that the house atmosphere has been better, saying it had been "relaxing" since Rachael had left. "There's not been one argument," she told Shabby. The filmmaker agreed, but added: "How long it will last, I don't know."