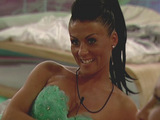 Corin and Shabby have speculated on why Corin was
awarded
a 'Day of Heaven' by Big Brother today.
After Corin collected the tikka masala she ordered as part of her day of treats, the two contemplated what had caused Big Brother's kind behaviour.
Corin said: "Maybe somebody's had a secret task and picked me for it", to which Shabby replied: "Maybe it's the same person who gave Rachael back her suitcase."
As Corin was the housemate who secretly won Rachael her suitcase back earlier on in the week, she agreed with Shabby that John James was the culprit.
"Thank you, John", she said.