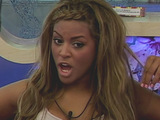 Big Brother
's first live eviction show delivered nearly 3m to Channel 4 on Friday night, according to early overnight figures.
Rachael's
departure
was seen by 2.69m (12.7%) from 9.35pm until 11pm, with a further 156k (1.2%) on timeshift. Meanwhile, the reality show rose 1.1m on the equivalent episode from
last year
.
Prior to that, a repeat of
Glee
had 510k (1.8%), unaffected by ITV1's coverage of the World Cup match. England v Algeria pulled in 12.89m (52.2%), peaking with a huge 18.24m (64.4%) between 8.45pm and 9pm. ITV1 HD attracted a further 1.42m (8.5%) - however, the overall figures still do not take into account people who may have been watching in pubs, bars and clubs.
James Corden's World Cup Live
followed with 3.99m (17.2%) at 9.45pm, with a further 540k (2.3%) watching in HD. From 10.15pm, 523k (2.8%) watched the show - which featured Noel Gallagher and Russell Brand - on ITV4.
EastEnders
was the only show able to
top
5m on BBC One, as the repeats of
Victoria: A Royal Love Story
and
Inspector George Gently
which followed at 7.30pm and 8.30pm could only muster 1.65m (6.3%) and 1.95m (7.3%) respectively.
BBC News
at 10pm won its timeslot with 4.29m (19%), after which
Friday Night with Jonathan Ross
entertained 2.38m (15.6%), a series low. Earlier in the day, the channel's two World Cup matches took a healthy 2.73m (36.6%) and 3.43m (34.6%).
Gardeners' World Live
and
QI
pulled in 1.22m (4.3%) and 1.97m (8.1%) for BBC Two, while
The Mentalist
and
Grey's Anatomy
drew 1.48m (7.1%) and 551k (4.6%).
Overall in primetime, ITV1 crushed BBC One with 44.5% to 11%, while Channel 4 came third with 5.6% (+1: 0.4%). BBC Two and Five settled for fourth and fifth with 4.6% and 3.3%.
BARB ratings data supplied by Attentional