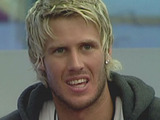 John James has denied any feelings whatsoever towards Sunshine.
Speaking to Caoimhe and Shabby, who confronted him over Sunshine's affection towards him, he also branded her "annoying".
"She means well but sometimes it's a little bit [annoying]. She kept getting a bit handy to me," he said earlier tonight.
Caoimhe and Shabby then asked John James to admit to Sunshine that he is not interested in her, which he did.