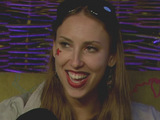 John James and David have spent the evening teasing Sunshine, saying that she is 'rebelling' in the Big Brother house.
While in the garden, John James and David were throwing the "solf" ball around, until Sunshine intercepted it. They then accused her of throwing it over the garden wall and proceeded to chase her around the garden.
Later, as Sunshine came into the house, David and John James followed her and told Ife and Mario about the 24-year-old medical student's supposedly raucous behaviour. David told Ife: "She threw our ball over the fence, she's smoking cigarettes. She's gone wild."
Ife responded by telling her: "You go, Sunshine, you do what you need to do!"
Earlier today, John James
denied
having feelings for Sunshine.