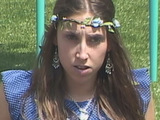 Sunshine has reacted strongly after finding out that Ben had nominated her in the first week.
After Big Brother announced the failure of tonight's task due to rule breaks, it was revealed that one of the reasons was due to a code Ben used to Shabby to describe how he nominated Sunshine in the first week. When John James had heard about the code, he had said "this could make it easier to nominate next week".
A discussion began between John James and Ben, with John James being upset at Ben for picking Sunshine. Ben consistently tried to explain why he had nominated her, saying: "It was in the first few days of arriving," and that she "wasn't my close friend" then, also explaining that he felt bad about nominating her at the time.
Sunshine said to Ben: "You can't admit that you're wrong," and that "you've broken my trust. All I can say is you've let me down". Ben continued to be upset with John James and Sunshine for "judging" him. David was also disappointed, adding: "I've been supporting you and I hear that?"
Mario tried to explain to John James that Ben and Sunshine weren't as close at the time as they are now, but John James still found it hard to take, as "she was your sixth closest friend, and there's 14 people in the house".
As housemates were told to remain in the bedroom until further notice, Ben continued to try and explain his reasons, as Sunshine, David and John James remained upset at him.