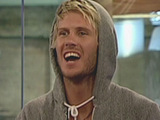 John James began teasing Sunshine this morning about choosing to change her name from Yvette to Sunshine.
The conversation began after a joke in which housemates dubbed her 'Scumshine' and 'Scumscream', with John James then asking Sunshine why she hadn't legally changed her name if that was what she wanted to be known as.
"Because I had a holiday booked," Sunshine said.
"What in the bluest of blue hells does that have to do with anything?" John James shouted, before Sunshine attempted to explain that it was to do with complications with changing her name on her passport.
"Alright, I'll call you Yvette until you explain to me why you haven't changed it," John James told her. "I will still call you Sunshine if you call me 'Great One'."
Sunshine told him she had no problem with that, while John James suggested that Steve's name was now 'Big Daddy Cool' and Dave said that he now wanted to be known as 'Beloved'.