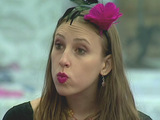 After being relegated to the garden by Big Brother, John James and Sunshine spent the afternoon teasing and bickering with each other.
The pair
argued
about Sunshine's name change earlier today and John James continued to frustrate her by constantly questioning her veganism.
When Josie asked how John James's girlfriend put up with him for so long, he looked at Sunshine and laughed: "She wasn't a vegan and didn't feed horses to her pet dog."
Sunshine joked that he should stop bullying her before John James asked if she would wear a Tinkerbell outfit to her wedding.
She told him that she probably would, to which he replied: "I'd come as the invisible man and just not show up."
They continued to tease each other, with Sunshine stealing his shoe as Big Brother called housemates back inside the house.
Once sat on the sofas, John James then poured some water down Sunshine's back. She ran off laughing and told him: "Go away, I'm not talking to you."
After changing, she returned to sit with John James and they continued to play fight and mock each other until Big Brother announced details of today's task.