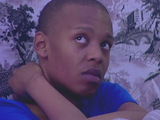 Govan has revealed that he thinks David will be voted out in tomorrow's eviction.
John James agreed that the public might be sceptical about David's "religious phantom", but claimed that Ben is more likely to leave the house.
Govan said of David: "Always the centre of conflict. Every time there's an issue, he's there and he loves it."
John James responded: "If I have to [put] £5 on it, I would have to say Ben, but I'm not sure how people are going to view the whole religious phantom going on."
Govan is the bookies' favourite to be evicted from the house in tomorrow's show, which airs at 9pm on Channel 4.