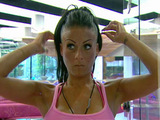 Shabby and Corin have revealed that they feel Govan deserves to stay in the house.
Govan is up for eviction this evening along with David, Ben and Mario, but Shabby told Corin that some of the nominees are more deserving of a place in the compound.
"I know all of them want to stay, but I think some of them deserve to stay more than others," she said.
Following on from Rachael's eviction last week, Shabby declared: "If Govan goes, then our group of friends needs to worry."
Shabby added that she doesn't think Govan will be evicted. "No, I don't either," Corin agreed.
"And if he does go I'll be gutted, even when he's in a mood I like him," Shabby concluded.