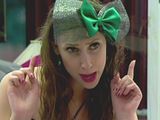 Nikki Grahame has said that she is a huge fan of Sunshine's song-and-dance routines in the house.
The Big Brother 7 star spoke about her love for the medical student's musical performances in her
News of the World
video blog, describing the 24-year-old as "hysterical".
"Although Sunshine is highly aggravating, I do feel sorry for her," said Grahame. "Her singing this week has been absolutely amazing. I was doubled over with fits of laughter.
"Oh my God, it was hysterical. I would actually hire her to come over for entertainment at a dinner party."