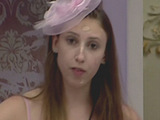 Ife and Nathan have stated their belief that Sunshine is misunderstood by her fellow housemates.
Chatting in the garden while the rest of the housemates were asleep, the pair agreed that the 24-year-old medical student doesn't mean to annoy or alienate housemates with her strange behaviour.
"I've always championed her," Ife said. "I think she's misunderstood."
Nathan agreed, adding that he thinks Sunshine "acts up" in group situations because she is having a hard time adjusting to life in the house.
"When we had the music on she left the group and went dancing in the bathroom on her own," Nathan said.
"If she carried on some of the qualities from being a nutter and branched them into being a normal person, she'd be lovely."
"I definitely think she loves people and she's concerned about people," said Ife. "But then she goes and does something like with the
crisps
".
Nathan said that he although he had "seen so many different sides" of Sunshine, ultimately he believes her to be a good person.
He said: "It's a shame… there's no way on high earth that that girl has got a bad bone in her body.
"She doesn't articulate that well. She doesn't know what she's doing."
Last night Ben held a similar
discussion
about Sunshine's behaviour, where he branded her as "truly bonkers".