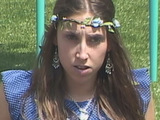 Sunshine has been discussing how she thinks Big Brother will effect her medical career.
After being asked again by John James whether she would legally change her name to Sunshine, the 24-year-old medical student
repeated
that she wouldn't because it may cause people to treat her less seriously as a doctor.
John James pointed out that her professional reputation may have already been damaged by her decision to come into the house.
Sunshine explained that she partly entered Big Brother to show that doctors can come from any background, saying: "If people can't trust me, what have I done? I'm no better than any patient I'll ever treat."
"I guess in here you're in the public eye," argued John James. "It's alright to be you in your own back garden...
"I guess it's a big risk because if you slip up [and] have an argument with someone over a stupid thing, people would be on to that more so."
He added: "At the end of the day you just have to trust the sort of person you are."
Sunshine explained that she had confidence in herself not to behave in any way that could damage her profession. She also said she wanted to break the taboo that competent doctors have to come from a long family line of medical practioners.
"If people criticse me and won't let me be a doctor than they're just proving that the tradition is still there," she said. "I passed my exams like everybody else".