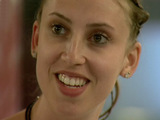 Big Brother 8's Lesley Brain has defended Sunshine's behaviour in the house, describing her as "clever" and "decent".
Brain, who walked out of the 2007 series, backed the medical student's actions during a
row
over her crisps. Various housemates argued with Sunshine over her unwillingness to share the snack, but Brain backed the 24-year-old.
"She is much tougher than we thought she was," Brain told the
News of the World
. "BB knew her well enough to throw the incendiary of crisps with her name into the arena. Despite outrageous bullying and the most absurd rubbish being spoken about 'team spirit' she stood up well.
"Just move on Sunshine, the extraordinary news is that while I hate picky eaters, I'm on your side with this. I suffered at the hands of housemates because I wanted fruit and vegetables in the house which seemed to them to be the most extraordinary aberration, especially coming from someone 'old' and therefore someone with no rights at all.
"They don't like you because are clever and sensitive [and a little mad] and actually decent. They are not."
Brain criticised Josie in particular, claiming that the Bristolian is jealous of Sunshine. "I shall not forget Crisp-gate when you were horrid about Sunshine, of whom you are jealous," she said.
"There's something deeply sneaky about you and I don't think this BB experience is going to be good for you in the long run."