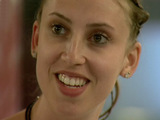 Shabby has admitted that she is getting annoyed by Sunshine's complaints about Nathan's cooking.
Confiding in Caoimhe and John James, the filmmaker spoke of her irritation that Nathan cooks separate vegan meals for the medical student but she appears ungrateful.
Shabby said: "Sunshine does irritate me when she bitches to Nathan about food, its like nothing's ever good enough."
"I honestly thought Sunshine was making her own meals, I didn't realise," John James replied.
However Shabby and Caoimhe soon corrected the Australian by reminding him that Nathan cooks a personal vegan meal for Sunshine every day.
"She tells Nathan what to do," Caoimhe complained. "She's like, 'Can you do this, can you do this'."
"I know, I heard her one day," John James admitted.