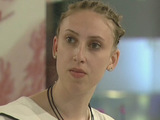 Sunshine has spoken out against the housemates she
argued
with during Friday's eviction.
The 24-year-old medical student told David that she was still reeling from comments made by Caoimhe, Shabby, Ife and Josie after she refused to share vegan-friendly crisps delivered to her by Big Brother.
She said: "What upset me was they said they knew that you'd selfishly keep them to yourself and that they've only put you in here because you're a vegan, that wasn't very nice."
David agreed that the girls had blown the incident out of proportion and put words into Sunshine's mouth.
"People start projecting what they think you think onto other people," he added.
Sunshine agreed, saying: "People were saying, 'No, you were hiding them, you were never going to share them'."
She did however confess that she felt she did something wrong in failing to rise above the comments.
"Because people were calling me names I did think, 'Why should I share them with people that are being mean to me?'" she said.
Earlier today, Shabby
confronted
Caoimhe about her role in Friday's argument and
criticised
her for generally treating Sunshine badly during her time in the house.