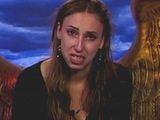 Sunshine became upset this evening after realising that she hadn't shared food with Ife earlier in the week when Ife had been feeling weak.
Ife told her that when Sunshine refused to share her crisps, she had made her feel small and quite upset.
"We're all human and we make mistakes. At the time I was like 'bitch' but we all have snappy moments," Ife explained to her before saying that it was in the past and not to worry about it.
After Ife left the bedroom, Sunshine told Corin and Nathan that she felt terrible about what Ife had said but Nathan simply replied, "We all need to move on, don't we?"
Later, Sunshine began crying in her bed and admitted to Corin that she should have shared her food sooner and not been selfish, as other housemates came into the bedroom to see what was wrong.
"Out of everything that's happened in the house I think this is the worst thing... so selfish," she told her fellow housemates.
Ife responded that everyone does silly things but Sunshine declared: "Not only have I disappointed myself, I have disappointed others."
She refused to be coaxed out of her bed and remained crying while David, Ben and Corin attempted to comfort her.