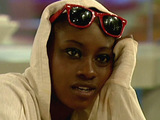 Ife has decided to give up smoking.
Earlier today, Big Brother said that he would be willing to provide housemates with tobacco in return for a 'significant item' from each of them - including the non-smokers.
Arguments followed after Shabby refused to give up her late grandfather's hat.
While chatting to Ben and Sunshine in the bathroom, Ife announced that she no longer wanted the tobacco anyway because she had decided to quit smoking.
Sunshine offered her support and said that she was proud of her. Ben suggested working out how much she spent on cigarettes per week and buying herself a treat with the money she will save in six months' time.
"I'm paying to poison myself. That what it is - the toxins in the cigarettes. I'm slowly blacking out my lungs and I'm actually paying for it! It's ridiculous and it's so not like me to have so little self-respect," she told them.
The dancer admitted that the brinking point came when she was on her hands and knees the other day looking for cigarette butts to smoke. "That's when I had an out -of-body experience and thought 'What are you doing?'" she said.
Later while chatting to Josie, she said: "I'm really proud of myself. Please let me feel like this in two days' time!"