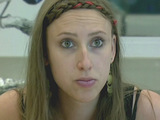 Mario and Sunshine have been discussing Friday's eviction.
Speaking about the three housemates nominated to go - Sunshine, Caoimhe and Shabby - Mario told the medical student that he thinks Caoimhe will be the one to leave.
Sunshine asked Mario why he thought Caoimhe would be the public's choice, commenting: "You don't want anyone to go this week do you?"
"Not because she has done anything particularly horrible but in the past whenever a particularly pretty girl gets put up they normally get evicted," Mario replied.
"Look at Rachael - she's a particularly pretty girl, she didn't do anything wrong... and Caoimhe falls into the same category."
However Sunshine argued back: "Who won last year? Pretty Sophie."
Mario - a Big Brother buff - reminded Sunshine that Sophie had never been up for eviction, adding: "I think you're not going to go but don't quote me if you do."