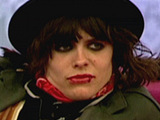 Housemates have been rewarded with alcohol for taking part in
'Experiment Human Nature'
, but Shabby failed to win an individual reward after she was unable to correctly predict the outcome of the task.
As the experiment continued, Josie and Nathan completed the objective of the challenge the quickest, with both of them managing to stay in the task room for less than a minute before putting the tea cosy on their head.
Mario and Steve, however, failed to recognise the objective of the task, while Sunshine spent the whole time sat on the chair talking about her day after claiming that she knew what Big Brother wanted her to do.
The task complete, Big Brother opened the storeroom for housemates to collect a supply of alcohol. While most of the group were excited at their reward, Shabby appeared upset after claiming that she had lost her part of the task.
After debating with the rest of the group whether she was allowed to reveal the objective of the experiment, Shabby eventually confessed that she had been asked to predict which of her fellow housemates would take the shortest amount of time to put the tea cosy on her head.
She had picked Sunshine, when in fact the fastest housemate was Nathan, who lasted only 50 seconds before slipping on the tea cosy. As a result she had lost out on a personal reward, which she believed was having her late grandfather's hat returned to her after being encouraged to
surrender
to Big Brother yesterday.
"I thought it was who could stay in there the longest without touching the tea cosy," explained a mortified Sunshine. "I just spent the whole time talking."
"Of course you did, Sunshine," Shabby muttered under her breath.