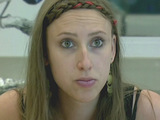 Sunshine has complained that her fellow housemates have got the wrong idea about her, after Shabby chose her as the person most likely to put a tea cosy on their head in today's task.
"Are you still feeling down?" John James asked her after dinner. The medical student replied that she was, because she thinks that she has been misunderstood by the majority of the group.
"I work for a charity, I do counselling... not for anything, just to help people," she explained. "I do quite a lot of helping. But nobody ever comes to me here when they need that person. No-one has a clue that I'm that person."
She continued: "I will happily put black lipstick and blue lipstick on... but I wouldn't humiliate myself and put that tea cosy on my head."
Later on, Sunshine discussed the issue further with Ben and David, asking them whether her penchant for fascinators has led people to believe she's the sort of housemate who would put a tea cosy on their head.
The duo reassured her that it hadn't, before Ben admitted that he has the same problem.
"I'm sure most of the people here think I'm this slightly selfish, dubious person who's always scheming and lazy and trying to get extra bits of food... but at home I spend my time counselling my friends on the phone," he complained.