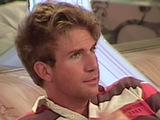 Ben has told his fellow housemates that when he throws a dinner party he gets each guest to bring a course.
He explained that there is always so much food, he freezes the leftovers and is "set for the next six months".
"I'm not bringing anything to your party!" objected Mario, as the rest of the house chipped in with what they would take to Ben's house if they were invited for supper.
"What could I bring?" asked vegan Sunshine, to which the hypothetical host replied: "You could bring beautiful homemade chips."
Shabby decided that she'd bring ham on wholemeal toast, and Ben suggested Corin should provide "a balm cake from [the cafe in
Coronation Street
] Roy's Rolls".
"Hey, I could probably bring [the cafe owners] Roy and Hayley if I tried hard enough!" she laughed.
Meanwhile, David shocked Mario with tales of a fast he once undertook.
"I fasted once for 21 days. Just tea and water... I lost two and a half stone," revealed the monk. "But man, it's horrible when you just want to eat and can't."