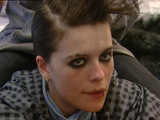 Shabby and Caoimhe have had a passionate heart-to-heart about their feelings for one another.
After earlier
confessing
to being in love with the 22-year-old Irish student, Shabby met with Caoimhe out in the garden to question why she had been acting flirtatiously despite claiming that the two should just be friends.
After sitting in a tense silence, Shabby finally broke the silence by saying: "I'm not a little homewrecker you know."
Caoimhe replied that she knew that, but was finding the situation difficult to cope with.
"How is it difficult?" shouted Shabby. "It's panned out exactly the way you wanted it to pan out… we've still maintained our friendship and everything's been just fine - for you. So what's the fucking issue?
"I just can't believe you're so worried about it. You say this guy (Caoimhe's boyfriend) loves you and if somebody loved me, I know they wouldn't believe in an editing process. He's not an idiot, is he? So what are you fucking worried about?"
Caoimhe claimed that she forgets about Shabby's feelings for her and is shocked whenever Shabby brings them up, which the 24-year-old disputed.
Caoimhe retorted that she doesn't like Shabby reminding her of the attraction, saying: "I don't know what to do 'cos I feel so awkward."
"So what you're saying essentially is that I should just not say what I feel," Shabby argued. "You have to bear in mind that I am being respectful to your boyfriend, but I don't know him.
"What you want me to do is shut the fuck up and not say anything... you think we have a really good connection, where the fuck do you think that connection comes from?"
Spluttering and struggling to find an answer, Caoimhe finally replied: "Just a friendship. I don't know where it's come from, where the fuck do you think it's come from?"
The conversation came to an abrupt end when Ife came and sat between the girls, huffing at Sunshine's "attention-seeking" behaviour after John James pulled her into the pool earlier in the night.