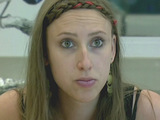 Sunshine and John James appeared to make amends this morning after last night's
incident
involving Sunshine being thrown in the pool.
Talking in the bathroom with fellow housemates Josie and Corin, Sunshine initiated the conversation by telling him that even though he had hurt her, she didn't want to fall out about it.
"I was really upset last night and I went in [the Diary Room] and I wanted to leave," she confirmed, before continuing: "I didn't go in there to say tell John off, I said over and over again I didn't want to get you into trouble."
"The public will see what they are going to see," John James said, shrugging. "I apologise for the carpet bit."
Sunshine told him that the best thing for them to do would be to get on and forget about the incident.
"Both of you just need to stop the joking then because it's going to get out of hand," Corin advised the pair.
Josie agreed that they should put it behind them, telling John James later that she didn't want to hear about it all day and that he should stop being miserable.