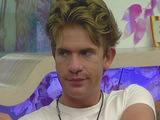 There will be a slight twist to this week's live eviction show, it has been announced.
Ben will have to perform a stand-up routine on the steps at the top of the house during tomorrow's programme.
According to the Channel 4 website, Ben will have to "write a stand-up comedy routine and unbeknown to him…perform it in front of Davina, the eviction night crowd and the TV cameras".
The punishment is part of the consequences for Ben after he disobeyed the Tree of Temptation.
Yesterday, Ben failed to complete his secret task and has since told the others that he has been talking to the Tree.