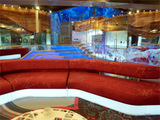 The housemates have continued with their
International Joke Day
shopping task.
While David and John James remained in the chicken coop, 'dumb blonde' Josie was called into the Diary Room for her section of the task, where she was asked to guess the punchline to ten dumb blonde jokes.
Upon her return, she told Shabby, Caoimhe and Mario that she had failed her challenge, having only been able to answer three punchlines instead of the required seven. After repeating some of the jokes she had been asked, the others assured her that they wouldn't have done any better.
Later in the evening, the Englishman, Irishman and Scotsman, otherwise known as Sunshine, Caoimhe and Shabby, were taken to the task room to find the punchlines to three different jokes that were printed on the sticks of a pile of lollypops, the wrappers of a mound of chocolate bars and the inside of Christmas crackers, all of which were dropped on them from a chute in the roof.
The girls easily completed the task within their 60-minute time limit and celebrated by eating the leftover lollies and chocolate bars and playing with the gifts from inside the crackers.
"It's times like this I quite like being on this show," smiled Shabby.
The final part of the task will involve Ben compiling and performing a live stand-up routine during tomorrow's eviction, a role he was
given
as punishment for failing a secret
mission
set for him by the Tree of Temptation yesterday.