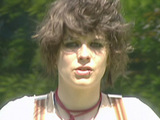 Shabby and Ben have agreed that cracks are beginning to show in some of their more placid housemates.
The conversation began as they discussed their often volatile natures and their seeming inability to stay out of arguments.
"The sort of 'Steves' and 'Corins' of the world, is it that they don't have bad qualities, is it that they control them more, or is it something else?" Ben asked Shabby.
She thought for a minute before telling him: "Steve is a lot better equipped for this thing than we are. Corin is very bubbly, very happy, but I'm starting to see cracks in that."
As she finished her sentence, Corin walked into the bathroom and asked: "Are you really seeing cracks in me, Shabby?"
Shabby clarified that she meant no-one can be happy all the time and admitted that she saw similar 'cracks' in Nathan yesterday.
She said that it is only human to show weakness at certain times, to which Corin agreed.