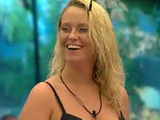 Josie and John James have spent much of the afternoon together, as Josie teased John James about his anger and John James teased her back about her intelligence.
After being questioned by John James on what she had said about him in the Diary Room, she told him that although she doesn't 'slag him off' in there, she declares she would have every right to.
As they lay in bed with Mario, she then decided to ignore John James as he teased her about failing her quiz in yesterday's task, asking Mario, "Did you just hear something?" each time John James spoke.
"Since Josie isn't here and she can't hear you, she told me she fancies you," Mario stirred before leaving the bed.
Josie dropped her act and clarified that all John James's arguing had put her off him.
The two stayed lying in bed talking before John James suddenly jumped on Josie and began wrestling with her while both laughed hysterically.
John James later apologised to her for his anger and revealed that he uses it as a shield because he is actually a very loyal person who gets upset when his friends get hurt.