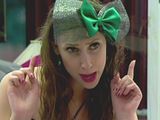 Corin has told Sunshine that she will be "gutted" if the 24-year-old medical student is evicted tonight.
As the housemates finished getting ready for the evening and began to gather on the sofas, Nathan was called to the Diary Room. Corin said that she hoped they were being given more tobacco. Sunshine then joked that after she is evicted, all Corin will want is a cigarette and to go in the bedroom and stretch in her newly empty bed.
Corin told her: "Nah, no way, I'll be gutted if you leave." Sunshine replied: "I'm glad to hear that." After pausing for a moment, she said: "Wait for it, 'Please pick me for the special day...!'"
The 29-year-old from Stockport responded, saying: "No, honest I'll be really gutted. You've got a lot of energy, and I like that, I'll miss it. I'll be sad if you go."
Sunshine has faced the public vote for the second time this week. However, Irish student Caoimhe is the bookies' favourite to leave the house this evening.